Your events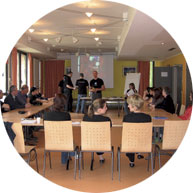 Our conference rooms can be tailored to fit your specific requirements. To help get your event underway a full set of technical equipment and services will be provided.
If you're in need of a break our coffee / cocktail break service will give you a bit of rest bite allowing you to relax among participants.  
What we can offer you in terms of conference rooms…
11 meeting rooms suitable for 5 to 130 people

2 conference rooms

Equipment upon reservation – sound system, video projector, TV, cd and DVD

Mail, telephone, fax and photocopy services are also availabl

Wi-Fi access
All of our available conference rooms are lighted by natural light.
Restaurant service
Meals, breaks and cocktails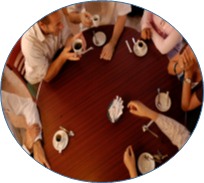 Our restaurant service can help make your event a success – coffee-breaks, cocktails, buffets, self-service or table service. You can pick and choose between the services on offer to meet your demands. 
Our philosophy – Freshly prepared meals with local products and suppliers.
Organization of your seminars

Here at the CIS, you'll be able to take advantage of our conference rooms, tailored restaurant service and quality accommodation all in the same place.
 Every year, the CIS welcomes and organizes hundreds of conferences, training days, educational days, seminars and other study related events.
 Everything is put into place so that your event runs as smoothly as possible: In addition to the comfort we provide for our customers, you will receive a professional service provided by our reception, maintenance, restaurant and accommodation teams.
If you wish to make a reservation you will find all the information your need :
Tel : + (33) (0)3 26 40 52 60
Email : Reservation Form